Announcing The Jonas Cullwick Memorial Fellowship
ANNOUNCING THE JONAS CULLWICK MEMORIAL FELLOWSHIP
Preserving a media veteran's legacy of reputable, first-rate journalism
10 January 2019
FOR IMMEDIATE RELEASE
Trading Post Ltd, which publishes the Vanuatu Daily Post and produces the Vanuatu Nightly News Broadcast heard daily throughout Melanesia, is proud to announce a new long-term endeavour designed to preserve the journalistic legacy of Jonas Cullwick, who passed away last year.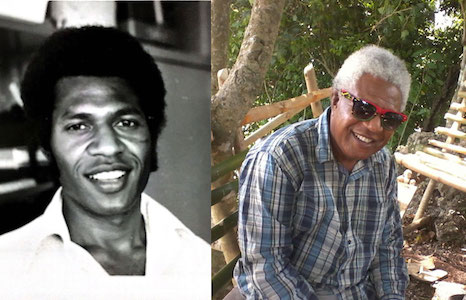 In a career spanning more than 40 years, Jonas established himself as a paragon of responsible journalism. His warm, unassuming and unflappable demeanour was complemented by a steely resolve. It proved an invaluable asset in getting the big stories. As another veteran reporter once said of him, 'If Jonas called, people picked up the phone.'
In many ways, Jonas is irreplaceable. One eulogy remarked, 'A nambanga tree has fallen'.
But the mighty nambanga—or banyan, as the world knows it—has many stems. And that, indeed, is its strength.
Beginning this year, the Daily Post is establishing an annual programme to plant the seeds to grow future pillars of journalism in Vanuatu.
We are proud to announce the first annual Jonas Cullwick Memorial Fellowship.
What is the Jonas Cullwick Memorial Fellowship?
The Jonas Cullwick Memorial Fellowship is an annual cadetship programme that will provide practical professional training and career-track employment to young Ni Vanuatu people who aspire to a career in journalism.
The Fellowship is aimed primarily at recent graduates beginning their journalism career.
It consists of a six-month paid placement with the newspaper, and optionally to assist with production of our Nightly News broadcasts as well.
Jonas Cullwick Fellows will receive a modest but competitive monthly salary during the entire period of their placement. They will contribute to our news gathering and will work side by side with the rest of our journalism team.
Those who successfully complete the programme may be offered permanent employment with Trading Post Ltd.
Between one and three successful applicants will be selected each year.
Who can apply for the fellowship?
If you do not have an academic background in journalism, you can still apply, but you are expected to know the fundamentals of good journalism. To maximise your chance of succeeding you need to be able to demonstrate that you have this understanding in your application.
For the time being, only Ni Vanuatu citizens may apply. We hope to source additional funding to expand this programme to citizens of other Pacific island nations.
A tertiary-level education, ideally in the humanities or in journalism, is preferred. But applications will be accepted from anyone with demonstrated reporting skills in English.
When can I apply for the Fellowship?
The application period begins each year on January 15, and closes on February 15.
The winner(s) will be announced at the end of February each year.
What special training will be provided?
This is a practical training exercise. You should already have at least some classroom experience or knowledge of the fundamentals of journalism.
We strongly recommend that you have completed at least part of a university journalism degree, or to have taken APTC's journalism courses before you apply.
Media professionals from the region and beyond with expertise in print, online and radio journalism have indicated their willingness to provide on-the-job training and skills development. Generally speaking, these would consist of 1-3 week modules of intensive on the job training and education.
Those selected will also benefit from frequent (generally daily) hands-on critiques, assistance and collaboration with experienced professionals to enhance their existing skills and develop new ones.
In addition to more generic skills, Fellowship trainees can also expect to learn in detail:
Writing and copy-editing skills
Information gathering and interview techniques
Practical application of media ethics and standards
Radio/audio equipment use
Use of high-end photographic equipment
Software tools and techniques including:

BLOX Content Management System
InDesign Layout software
Photoshop
Lightroom photographic processing software
Video editing and compilation software
Adobe Audition voice and audio editing suite
What skills are needed?
Required:
Ability to write clearly in the English language
A demonstrated ability to gather noteworthy information and present it in in a manner that serves the public interest.
The fundamental ethics and values of a media professional:

Fairness
Honesty
Neutrality
A willingness to search for, and be guided by the facts
Optional but highly desirable:

The ability to report and present radio and/or television news in English
Photographic and photojournalism skills
Multimedia and social media proficiency
How do I apply for the Fellowship?
Applicants MUST submit ALL of the following:
1)     Name of applicant, date of birth and contact information including phone number and email address, if available.
2)     An up to date and complete curriculum vitae (CV)
3)     No less than 2 academic or professional references who can speak specifically about the candidate's proficiency or potential in the skills listed above
4)     A cover letter addressed to the Media Director and explaining clearly why the candidate is qualified for this fellowship, and how the applicant expects to benefit from it
5)     A journalistic portfolio consisting of:
a)     COMPULSORY - Between three (3) and five (5) written articles in English, minimum length 2000 words altogether (not less than 300 words for each individual piece). These articles should demonstrate:
i)      Proficiency and clarity in written English
ii)     Solid fact-finding skills
iii)   Drive and determination to handle difficult or little-known topics
These articles must be accompanied by a byline or an attestation that the submitter is the sole author. Collaboration pieces are strongly discouraged.
b)     OPTIONAL BUT HIGHLY DESIRABLE
ALL of the material required in 4a) AND:
i)      Between six (6) and ten (10) images, including captions and titles, capturing important news events.
(1)   Photos MUST NOT be heavily retouched, stylised or otherwise manipulated using digital tools. Minor edits such as straightening, cropping or exposure adjustments are allowed.
(2)   Titles and captions MUST include date of capture, location and a brief description of the people and events portrayed for EACH image.
(3)   Photos must include an attestation that they were taken by the applicant.
c)     OPTIONAL – MULTIMEDIA PACKAGE
In exceptional cases, an applicant may choose NOT to submit items 4a) or 4b) and instead submit a multimedia application. This is an open format application using cutting edge story-telling methods, possibly including social media elements and multi-platform reporting techniques.
Multimedia submissions must include:
Functioning links to all resources
Source code (e.g. HTML, Javascript and links to relevant libraries)
The names and contact details of other contributors, if any
Video components MUST be accompanied by scripts, subtitles and captions as necessary
Multimedia submissions will be evaluated according to the same criteria as in options a) or b)
How do I submit my application?
ONE APPLICATION PER PERSON. JOINT APPLICATIONS WILL NOT BE CONSIDERED UNDER ANY CIRCUMSTANCE
Printed applications
Printed applications should be submitted on A4 format paper, in a manila envelope addressed to:
MEDIA DIRECTOR
VANUATU DAILY POST
POST OFFICE BOX 1292
PORT VILA
VANUATU
Applications may be hand-delivered to the Daily Post reception, but must be addressed to the MEDIA DIRECTOR.
Applicants MUST include a return address and phone number on the envelope.
We will not acknowledge receipt for applications sent by mail. If you require acknowledgement, please send by registered mail.
Electronic applications
Electronic applications should be put into an individual folder and either zipped into a single file, or shared via Dropbox or some other well-known file-sharing service.
An email should be sent to: Dan McGarry dan@dailypost.vu
The email should include the sender's:
Full name
Return address, if different from the sender's
Phone number
Attachment containing the zipped folder; OR
A link to a file share service holding the application materials.
We will acknowledge receipt of your electronic application as soon as we confirm the contents. If you do not receive an acknowledgement within days, please contact us immediately.
I have a question you haven't answered. Who can I contact?
Media or institutional inquiries, as well as questions relating to applications should be sent to:
Dan McGarry
Media Director
Vanuatu Daily Post
+678 55 44 602