When looking at the state of the Vanuatu economy today, it's tempting to quote Charles Dickens' hackneyed opening line from A Tale of Two Cities:
| | |
| --- | --- |
| IT WAS THE BEST OF TIMES | IT WAS THE WORST OF TIMES |
| Integrated travel and tourism growth strategy | Work permits mess |
| Burgeoning remittances | Mixed messaging on income tax |
| Record-setting kava exports | Packaging materials bans |
| Trade agreement with New Caledonia | Trade deficits with nearly every trading partner |
| Government revenues reach record levels | VAT revenues tepid |
| Massive infrastructure investment | Negative investor support |
| Public sector growth | Private sector stagnation |
| OECD White Listing | EU Blacklisting |
| Unprecedented development assistance opportunities | Rising strategic tensions |
| Increased rural economic activity | Increased government meddling in enabling industries |
| Passport sales | Passport sales |
The net result is something all too familiar to long-time Vanuatu watchers. We muddle through, taking the good with the bad. We do our best to avoid external shocks, and still manage to manufacture a few of our own. We show flashes of region-leading inspiration, and still manage to kick policy own-goals from the mid-field. We cooperate ably on matters of necessity, and bicker endlessly over everything else.
We are, in other words, a country learning to govern itself.
Bird's eye view
Seen from a distance, Vanuatu looks remarkably good. Remarkably good, that is, for a tiny, resource-poor, isolated economy that also happens to be among the most beautiful and pristine places in the world.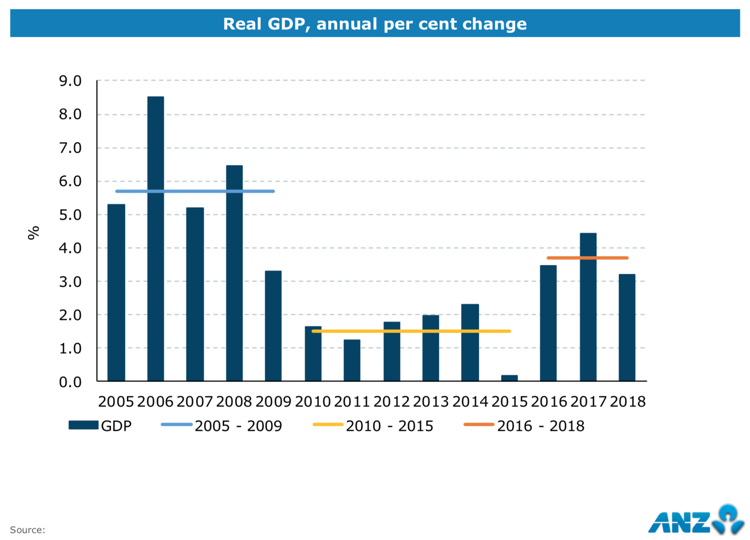 A recent economic analysis presented by ANZ Pacific economist Kishti Sen appears to show that economic growth took a dive in 2015 following the twin disasters of cyclone Pam and the Bauerfield runway debacle. But building back from Pam kept the numbers from turning negative.
This may be an example of the broken window fallacy, though. As the parable suggests, spending to recover from damage isn't actual growth. Opportunity costs are not considered, for example. Money that we spend building back to our previous state is money we didn't spend elsewhere.
There's truth to that, but the government's Build Back Better philosophy does try to derive some net benefit from the situation.
No bull
All in all, there's little reason for short-term bullishness in the private sector.
We don't have sufficient formal indicators to say with certainty that the economy shrank for at least part of last year. But consider that lending activity was flat at best for at least six months. VAT revenues are perhaps the closest thing we have to an economic thermometer. If activity is increasing, tax revenues rise. If activity decreases, they fall.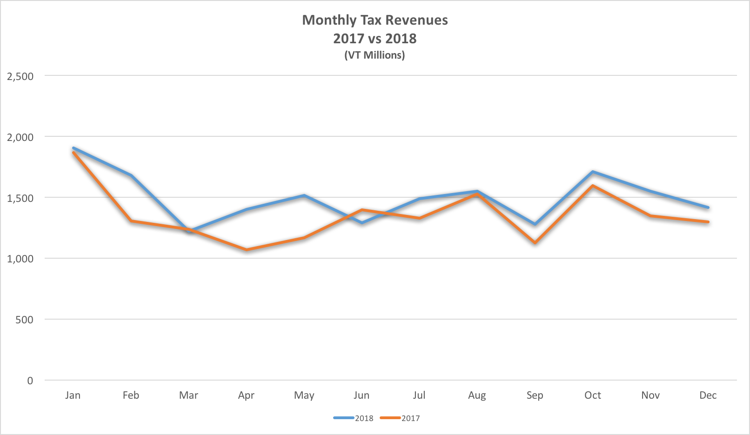 Year on year, VAT revenues rose less than 10% overall. That's troubling, because on January 1 2018, the VAT rate was raised from 12.5% to 15%. That should have driven an increase in the 12-15% range on a month to month basis, with the rate of increase rising gently as the year progresses. (It's a 20% rise, but these things always take time to ramp up.)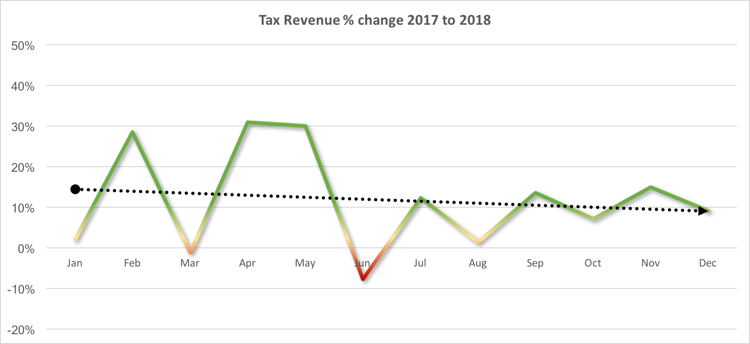 not what happened. Q1 returns started well, at about the optimum level. But things fell off from there. Even with strong revenue numbers in the last two months of 2018, the year ended with VAT revenues well below where they would have been in a healthy, growing economy.
Passport(s) to prosperity?
But government seems un-phazed by this. Officials are sanguine about their revenue numbers, which are increasingly driven by passport sales. Non-tax revenues spiked at the end of last year. Overall they leapt by nearly 90% from 2017 levels, which were already wildly over budget predictions.
Q3 figures seem to indicate that the floodgates are truly open. October 2018 saw over VT 1.8 billion in non-tax revenues. November and December showed a gradual tailing off, but remained well over VT 1 billion.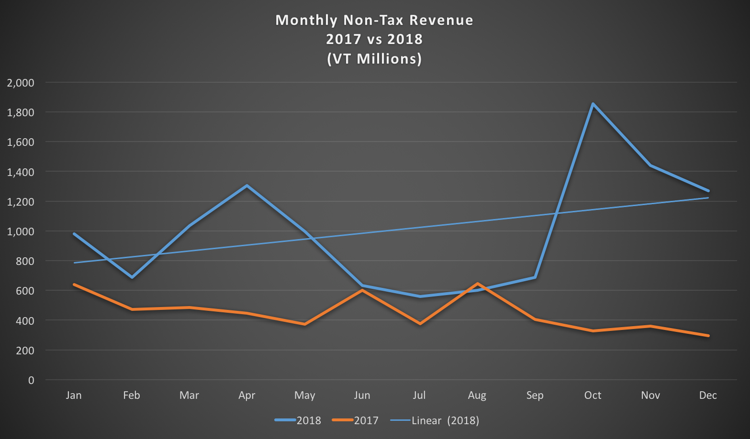 Government revenues overall rose 33% from 2017 over 2018.
This is leading to worrying signs of profligacy. Termination payouts, acting allowances, leave expenses and other payroll-related costs overran by hundreds of millions of vatu in every category.
Overall, spending on social benefits was nearly double the amount budgeted. Nearly VT 6 billion in supplementary spending was approved in 2018.
Everybody seems to want a new car. Replacement vehicle spending was VT 104 million against a budget of VT 19 million. New vehicle spending ran to over VT 75 million versus a budget of less than VT 14 million.
Assuming a very generous VT 4.5 million per vehicle, that's nearly 40 new cars for Vanuatu's tiny civil service.
Debt reduction
On the bright side, not all of the money is being wasted. Some is been used to pay down external debts. Emphasis is on China EXIM loans. The Government's December Financial Report states, "External loan repayments include VT 1,003.8 million of China loans, VT 365.4 million of loans from the ADB, VT 59.6 million repayment of World Bank loans and VT 35.1 million of French loans."

It's clear to everyone that tourism is likely to be the main economic driver for the foreseeable future. And—arguably for the first time—that realisation has become a government priority.
The entire private sector has welcomed the government's ambitious Shared Vision 2030, which aims for massive growth in the travel and tourism sector. If all goes according to plan, arrival numbers will triple in the next decade.
Flight frequency will increase, arrival and departure times will improve, giving tourists more time on the beach. The number of departure points will increase, too, making more connections possible. It's conceivable too that within five years we could see the first flights arriving directly from the USA and southeast Asia.
The equipment and facilities required to make this a reality are substantial. Airports Vanuatu Ltd is in talks already with institutional sponsors who are reportedly willing to provide extremely concessional financing.
Swings and roundabouts
It's easy to be pessimistic in Vanuatu. Some would say it's a learned skill. The majority of business owners are desperate for some good news—and most are loudly supportive of the broad strokes outlined in Shared Vision 2030. But it's dangerous to ignore the downside.
The whole travel and tourism strategy comes with an eye-watering price tag.
Relative to the size of the Vanuatu economy, it's massive. Monthly lease rates for narrow-body aircraft run in the neighbourhood of US $100,000 per month each. Adding half a dozen of those to Air Vanuatu's fleet compounds its liabilities dramatically.
Naturally, the direct and knock-on effects of a larger fleet are also big. ANZ's senior Pacific economist suggested that although short-term growth is likely to remain modest, mid-term prospects could see it rising into the 5-6% range. We haven't seen numbers like that since 2006, and that happened because the country was finally rising out of the shambles of the late 1990s. VAT revenues were finally firming up, and confidence began to return, leading to a real estate boom that chewing up most of Efate.
Small economies are subject to shocks, not just from headline-making events like cyclone Pam, but from single issues, too. The end of the real-estate bubble saw construction revenues drop drastically between 2012 and 2014. The industrial sector shrank by over 20%.
Arguably, successive governments' dilly-dallying with the Bauerfield airport repairs did as much to damage the national economy as cyclone Pam did.
The problem with tiny economies such as ours is they have fewer moving parts. If one breaks or bends, it can affect the entire system. We only have to screw up one airline, one airport, one city—one road, even—to leave a scar that everyone wears for years.
And it doesn't even have to be anyone's fault.
If a major cyclone or earthquake were to inflict enough damage on an expanded and upgraded Bauerfield airport, playing host to much more substantial fleet of aircraft, the repercussions could reach to the very heart of the economy, causing widespread hardship.
Go big or go home
But our puny size has to be outgrown. We can either increase our economic appetite or face starvation. In larger economies, struggling businesses are replaced by more dynamic ones. Competitive pressures result in losses for a few, but gains overall. Someone who capitalises a company and then loses out sells out to someone else, for example, so the value of the capital investment isn't lost.
Here in Vanuatu, that's not necessarily true. If a major resort were to shut down, there's no guarantee that another company would snatch up the idle resources. Jobs might not be replaced, new ideas might not be tried.
There just aren't enough new entrants in the market to ensure that lost capital is reacquired and reapplied to the economy. This creates a self-reinforcing dynamic, where lenders, who often secure their debts on these assets, are loth to let a business die.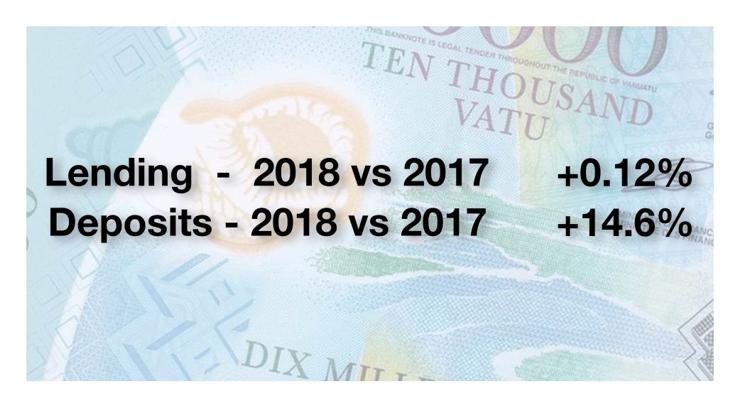 The economic pool is small enough that adding a single large entrant requires everyone else to shift around. Likewise, removing one creates a space, and all too often a gap.
All about the base
Add to this the frustrating duality of the government's attitude toward investment. On the one hand, cash-hungry leaders will often go well beyond their official purview to tout for sometimes questionable investment proposals.
On the other hand, nationalist often politicos play to their base, creating policies that penalise investors and saddle them with unsupportable burdens.
The latest plank business owners are being asked to walk is to nationalise all employment positions within four years. Amendments to the Labour (Work Permits) Act were greeted with universal concern from business owners, who warned that the law as written is certain to drive off new investors and possibly convince established business owners to give up and move on.
Worse, these concerns were met with intransigence and even petulance from government members who appeared to be more personally invested in the optics of the debacle than in the actual impacts.
External shocks
Domestic politics isn't the only threat. A recent announcement from the EU that Vanuatu would be one of four Pacific island nations to be sanctioned for 'non-compliant' tax policies was met with howls of derision from local financial professionals. They labelled the move as bullying, and insensitive to Vanuatu's unique circumstances. Some went so far as to accuse Brussels of neo-colonialism and even 'financial racism'.
Coming on the heels of a two-year financial reform campaign that finally cleared Vanuatu from the OECD's money laundering and terrorist financing grey list, these EU sanctions do feel like insult added to injury.
There is broad consensus in the private sector that the government can and should push back, and do it aggressively.
With apologies to Mr Dickens, if the government could find the gumption to fight as hard to protects the nation's economic rights as its indigenous rights, it would be a far, far better thing to do for the economy than it has ever done.          
Unless something fundamental changes, hard-earned scepticism and financial conservatism among blue-chip business owners will continue to rub off on the rest of the crowd here. This will mean reduced recapitalisation, stagnant lending, too-high liquidity and banks focused on deriving their profits from existing customers rather than cultivating growth.
If that happens, then ANZ economist Kishti Sen might end up having to change his tune about the country's mid-term prospects. And Vanuatu will continue muddling through as one of the best—and worst—small island economies.
---
This article is the main feature in the March 2019 edition of the Vanuatu Business Review
CORRECTION: An earlier version of this article featured a chart indicating that non-tax revenues represented 41% of overall income in 2018. That was incorrect. The error was caused by a calculation error on the spreadsheet used to generate the chart. It has since been updated. We apologise for the error.