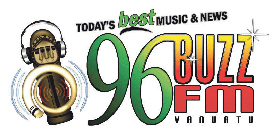 The brainchild behind 96 BUZZ FM is Marc Neil –Jones who publishes the Daily Post which is the biggest privately owned media group in Vanuatu. Marc loves music and news and wants the best of both available 24 hours a day seven days a week for the people of Port Vila. Expect to hear smooth music and comprehensive news on the hour every hour every day. Even the commercials will sound professional and not scream messages to you, you don't want to hear. Laughter is important and local and imported comedy will be part of the mix of information and entertainment you will hear from Friday 12th October 2012 on 96 FM.
Our 96 Buzz FM Team
Kizzy is a wonderful interviewer with a wealth of radio experience both here and in Australia. She is a keen cook and very interested in current affairs. Living on Ifira means she really gets Island life and has a natural warmth which shines through her morning show. She loves fishing and when she was a little girl had the honour of welcoming Queen Elizabeth and Prince Philip to her island home. 96Buzz FM is very proud to have her on our team.
Rutha is a remarkable young woman who has taken to radio as easily as she took to the tennis court and hospitality. Her beautiful voice will keep you company in the afternoons on 96 Buzz FM and her interest in music and celebrities will keep you up to date with happenings around the world.
Trevor is a wordsmith, who too is new to radio, but is really loving working at 96 Buzz FM and meeting all the challenges of this dynamic medium. A former business studies student who is using his organisational skills to make sure you are well informed about the goings on in Port Vila.
Lynn is an artist who uses sound as her canvas. She has been making commercials and promos for many years and brings a wealth of experience to our fresh team at 96 Buzz FM.  She loves music and will be sharing that love to you with selections of the best new music from around the planet. She lives in one of the most beautiful parts of it as her home is in Mele.
Pasai is a newsreader on 96 Buzz FM who will help you get the most comprehensive picture of what is happening in Port Vila, the islands of Vanuatu, the south Pacific and the rest of the world. Recently married his relaxed style will help you cope with whatever your day brings, as he and his wife balance work study and raising a happy child.
Aaron has spent a large part of his life in New Zealand where he completed many years of study including a diploma in sound engineering. He lives and breathes music and is very proud of the history and rich culture of his homeland Vanuatu. Listening to his deep voice on 96 Buzz FM is very enjoyable but more importantly his life-skills makes him very empathetic to his diverse audience.
Alfred loves his sport and his knowledge of so many codes makes him a natural in the world of news and sport. He has worked in hospitality and tourism and his love of locals and visitors alike means he understands how there are days when you care deeply about what is happening in local politics and then there are other times when all you want to know from 96 Buzz FM is how well your favourite sportsman hit, kicked or whacked the ball.